Tree Surveys and Assessments, Arboriculture

Many jurisdictions protect or regulate activities associated with mature trees, and require reports from a Certified Arborist. &nbsp For example, Los Angeles County Regional Planning Department and Ventura County Planning Division both have native tree ordinances that require detailed reports in order to obtain a permit to prune or remove certain trees. &nbsp These ordinances have been enacted because of the aesthetic, environmental, cultural, and ecological importance trees have to humans, and wildlife. &nbsp Mature trees on private property add value to the property, and are considered assets.

Most jurisdictions (cities and counties) have some sort of ordinance governing what can and cannot be done to a tree without a permit. &nbsp Often, a report or recommendation by a Certified Arborist is required as part of a permit application in those jurisdictions with tree ordinances.

David Magney is a Certified Arborist (#WA-7674A), certified by the International Society for Arboriculture (ISA).

&nbsp &nbsp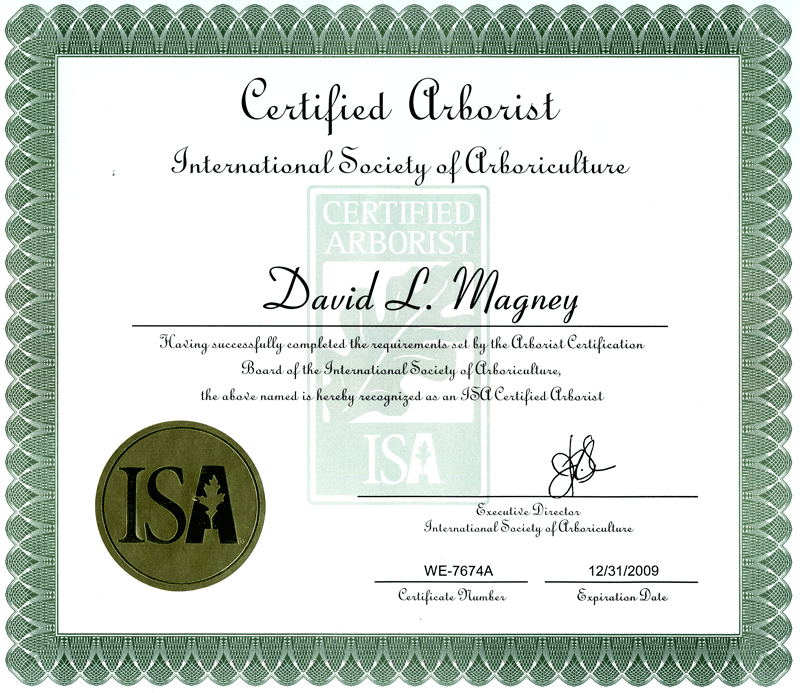 click to enlarge


DMEC has assessed impacts to trees on both large and small scales. &nbsp A large-scale assessment was performed for the Lyons Canyon Ranch development in the Newhall area of Los Angeles County. &nbsp For this project, DMEC used data on over 2,000 oak trees gathered by other arborists and developed a detailed and robust GIS database for all the trees on the 400-acre development site, which is described on the DMEC Presentations page. &nbsp The oak tree report and maps for the project were first submitted to the City of Santa Clarita, and the City stated that DMEC's report was the best and most detailed report ever submitted. &nbsp A copy of the oak tree report can be found on the Lyons Canyon Ranch project webpage under Section H.

DMEC is available to conduct individual and multiple tree assessments for both large and small projects. &nbsp DMEC follows ISA assessment methods and standards.


---
This page last updated 20 August 2007