My Old International Harvester Truck
4 August 2005
Updated 10 December 2011


CounterData.com



travel insurance Counter



These webpages show seven different old International Harvester Trucks, one I own, two that I am looking at for parts or to restore, and five that "newer" ones just waiting for someone to take home and restore. &nbsp The last one is my dad's old 1963 Crew-cab that he now wants to sell.

I learned to drive in 1969 on extremely different vehicles, a 1949 KB-1/KB-3 with a chassis-mounted camper (over 7,000 GVW) and a 1966 Pontiac Bonneville. &nbsp The Bonneville had a very powerful 421 ci 8-cylinder engine with an automatic transmission, 0-60 in 6 seconds (tested on Doris Road in Oxnard more times than my parents would ever want to know). &nbsp The '49 International had/has a Black Diamond ('60) 264 ci 6-cyl with a 4-speed manual transmission. &nbsp Maximum speed in that old truck was 70 MPH, downhill, with a tailwind, 0-60 in about 3 minutes (hold onto your hat!). &nbsp Of course you must double-clutch when shifting gears, that is unless you know how to shift without using the clutch. &nbsp No such thing as speed-shifting this rig.

The camper was built by a boat builder, who spliced two trucks together (a KB-1 and a KB-3) and added the camper, which is very heavy and sturdy (it weights about 7,800 lbs.). &nbsp The camper was just a box, but the interior is all mahogany marine plywood, and well made. &nbsp The roof is slightly convex from side to side. &nbsp My folks (mother and step-father) had the overhead portion added by the Vega Brothers in Oxnard in 1969 so the bunk was large enough to sleep two (not a lot of headroom though). &nbsp We also added a hammock above the table/bed at the back of the camper to sleep another person, so total sleeping capacity now is five comfortably. &nbsp It has an icebox, an apartment-sized stove with oven and broiler, and a sink. &nbsp No bathroom though. &nbsp There is a full-lenght closet, and lots of storage space in various compartments both inside and outside.

We have had the camper off only once, to fix the truck frame (in the location of the original splice), which was starting to sag. &nbsp We had to lift the camper quite high, frightenly so, to raise it up high enough to drive the truck out from under it. &nbsp The weight of the camper flattens out the rear leaf springs. &nbsp It was quite a job to slowly raise it up equally on each side with tripod-mounted jacks. &nbsp We used pallets and blocks for mounting the camper. &nbsp Without the heavy camper, the truck had lots of torque, and I think I could chirp the rear tires in all four gears. &nbsp It was absurd to use 1st gear since it is a granny gear.

I "purchased" the truck in the '80s from my folks but sold it to some family friends who wanted it as a "guest house", and I was too busy working and raising a family to restore it. &nbsp About 11 years later, the people we sold it to called up and asked if we wanted it back, for free. &nbsp Duh! &nbsp I had the brakes restored, the engine worked on a bit, and new tires put on, and had it running again. &nbsp Then I had to spend a couple of grand restoring the transmission as it was slipping out of 2nd upon decelaration and out of 3rd upon acceleration. &nbsp Needless to say, driving it in that condition was challenging.

For the past year it has been sitting with the front clip off, in stasis for restoring the original paint, rebuilding the carberator, and want of a rebuilt or new radiator. &nbsp Also, the main fuel tank is clogged, restricting driving range considerably with only the auxillary tank capacity (about 100 miles).

Below are some photos of this old International truck. &nbsp The first group of photos show the truck after I got it running (with the help of a local specialty repair shop). &nbsp The second group shows it in the process of being restored, or getting it prepared for restoration. &nbsp The third group includes photos of a late 40s KB-5 I am considering purchasing, to either restore or use for parts for my KB-1/KB-3. &nbsp We have some old movie film transfered to DVD of a camping trip the family took from southern California to Vancouver Island back in 1970 (or was is '71?), which I will try to capture some stills from and post here later.


1949 International Harvester KB-1 cab spliced together with a KB-3 (back half), with a chasis-mounted camper built by a boat builder back in the early 60s.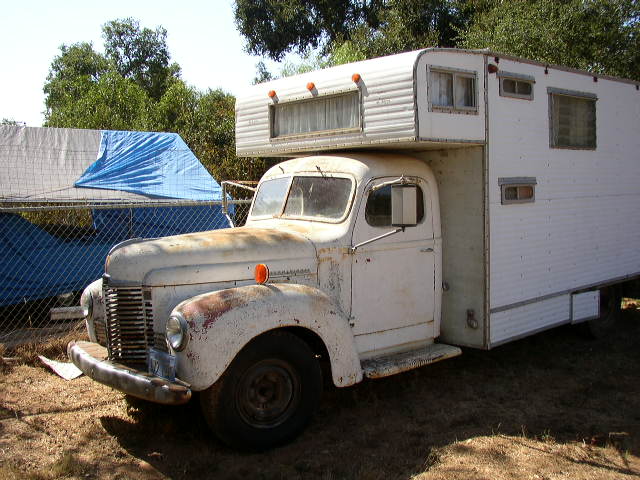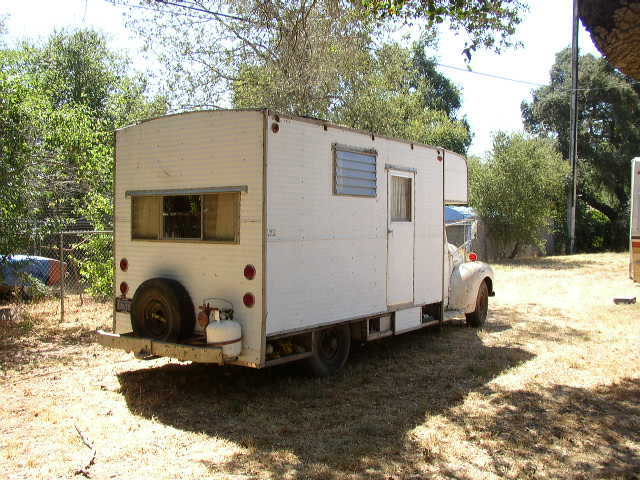 As you can see, I need a new hood ornament as someone dinged it ("Stevie did it" - inside family joke)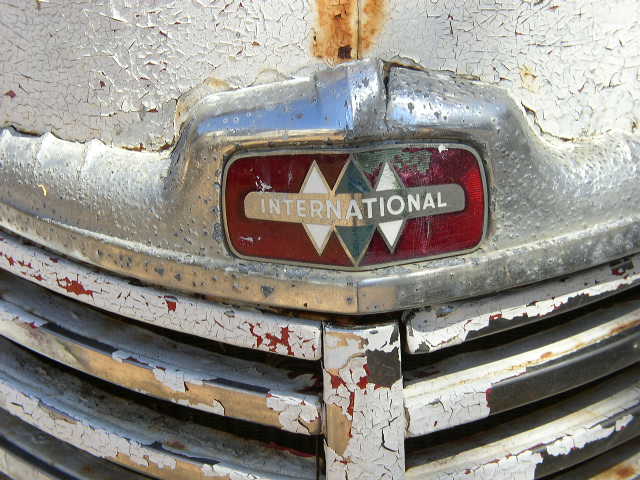 The upholstery in the cab is shot, hence the army blanket covering the seat, a project I hope to complete soon.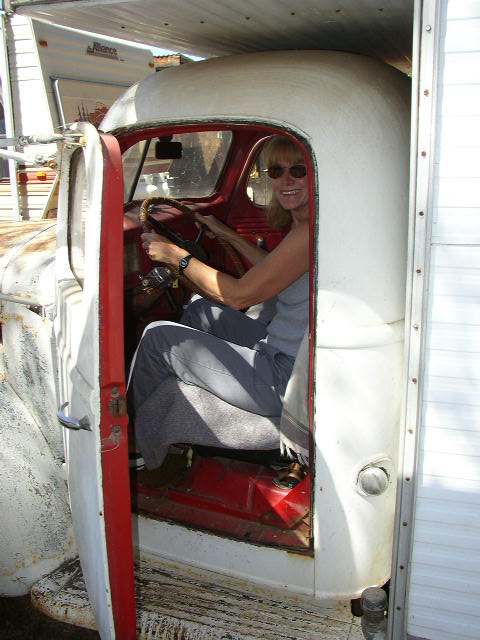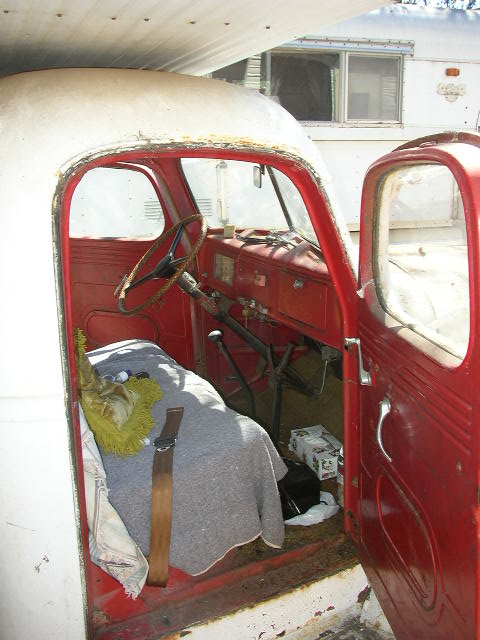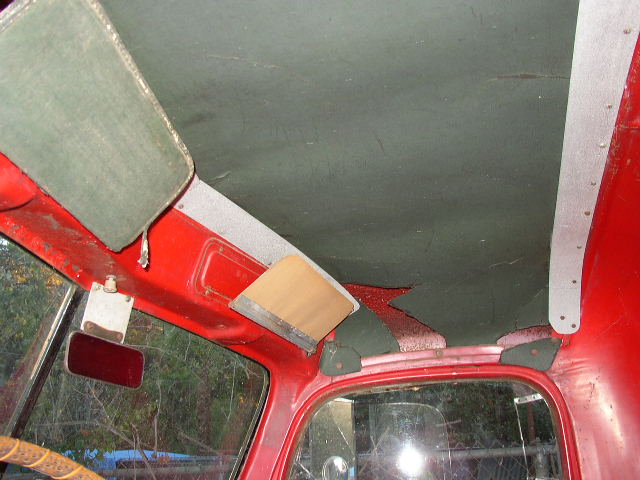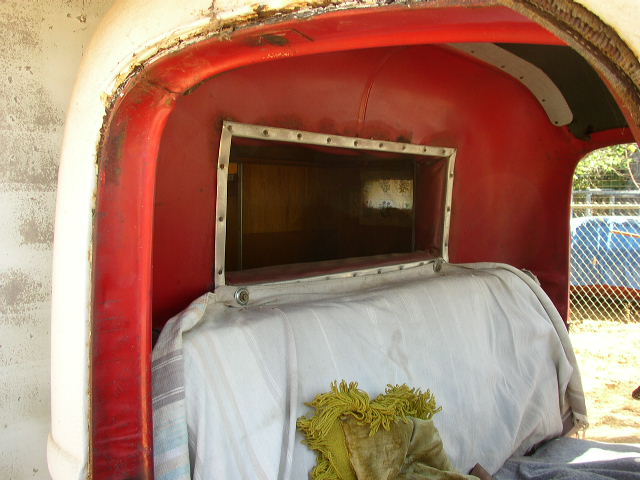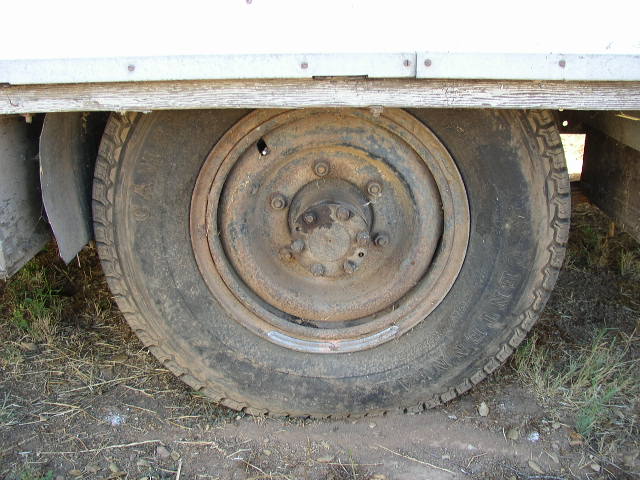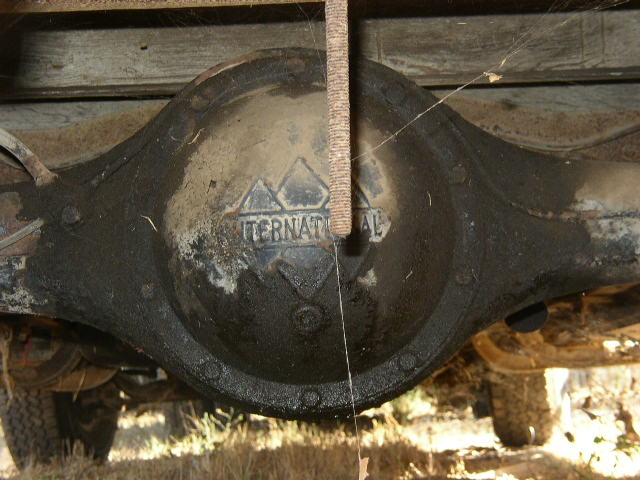 These photos show the gravel guard behind the front bumper. &nbsp The rear bumper is custom-made and extends out to hold the spare tire and propane tanks.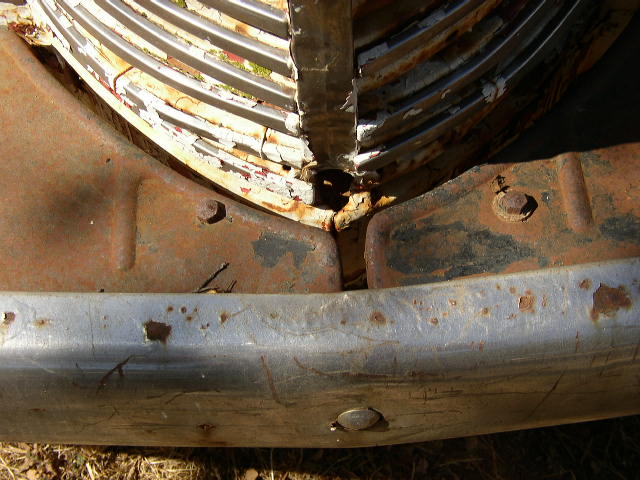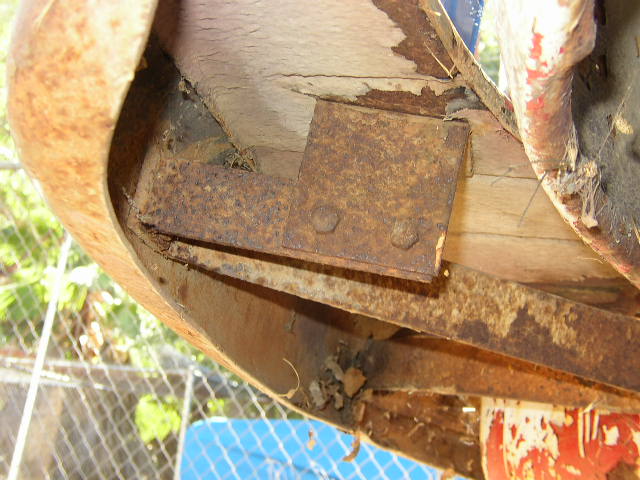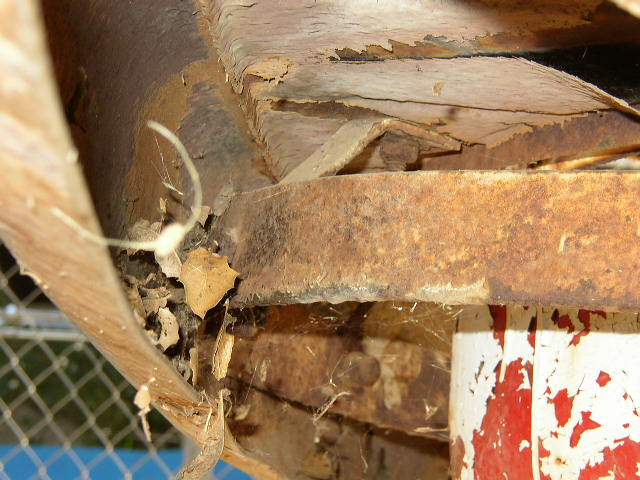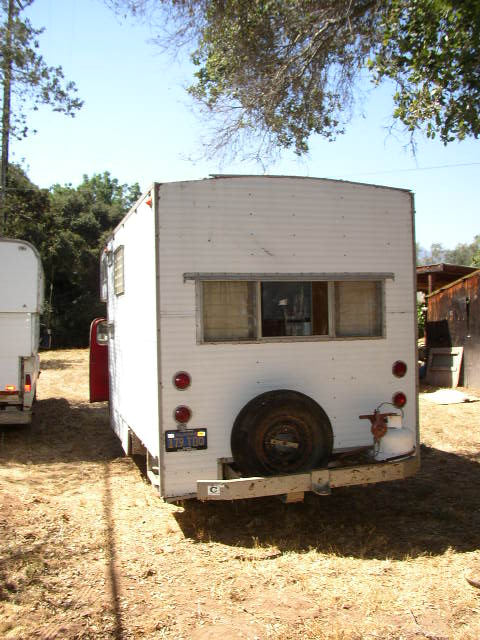 The truck had sat so long that a couple of species of crustose lichen established colonies on the cab. &nbsp As a botanist, it was very hard to remove them in order to begin the body restoration (actually I had my son-in-law do it).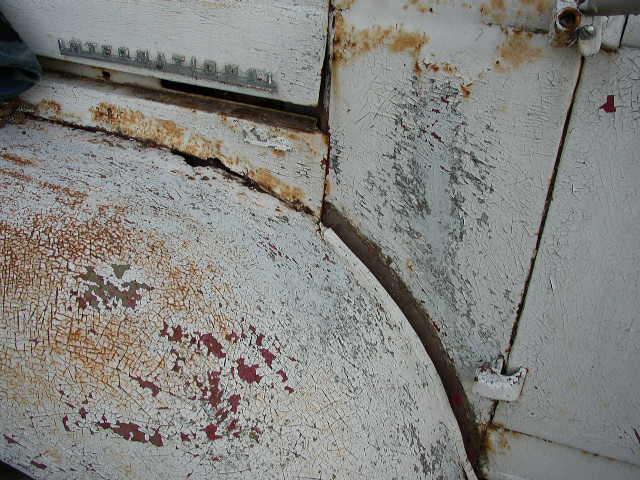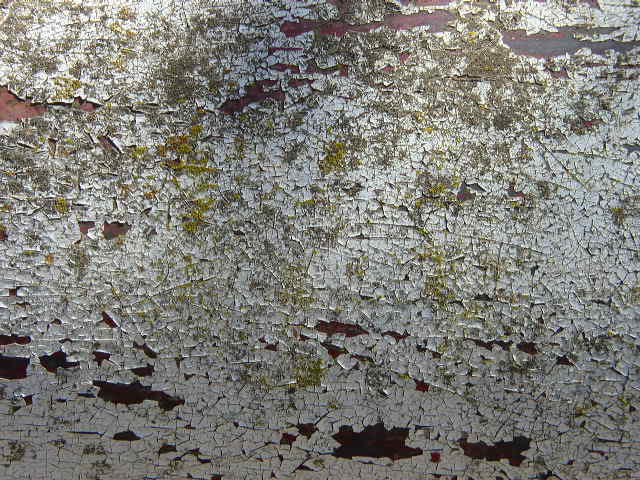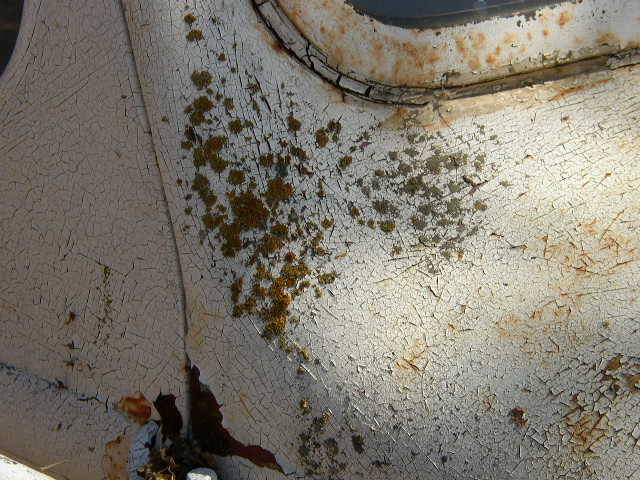 Restoration Begins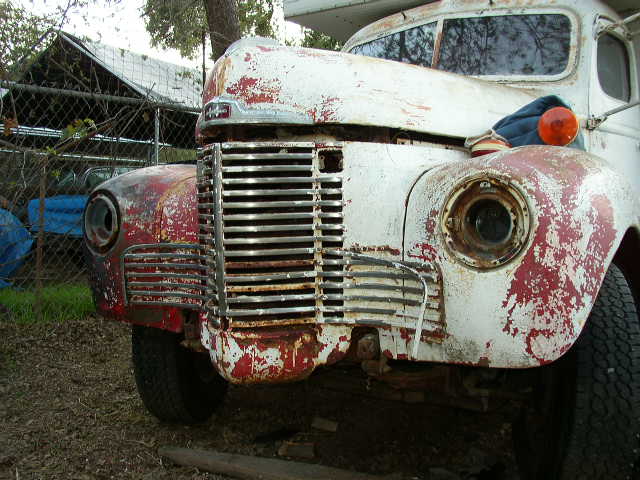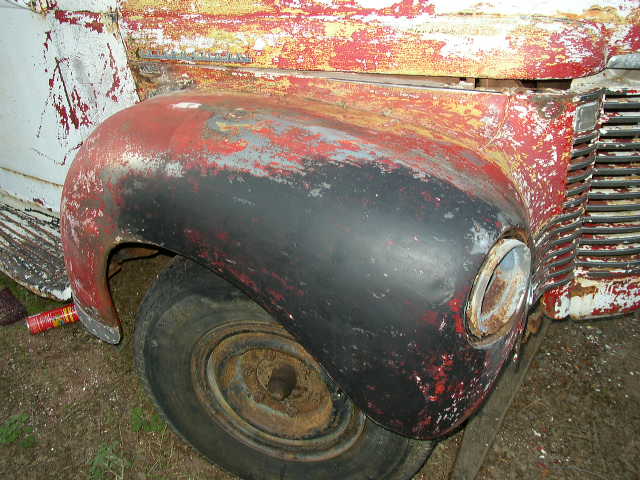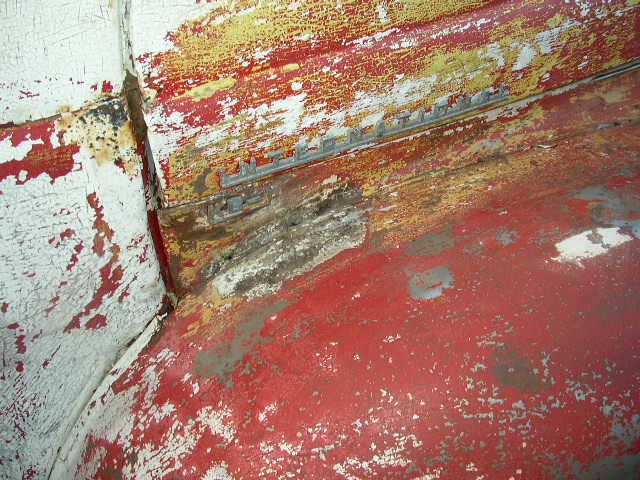 Now the front clip and hood are entirely off, and sitting with weeds (Erodium moschatum) growing up through them, just waiting from me to get back to restoring this great old truck. &nbsp The only parts restored so far are the gravel guards, painted black, and the driver's-side running board, painted International Red.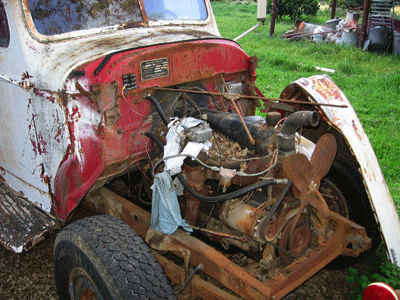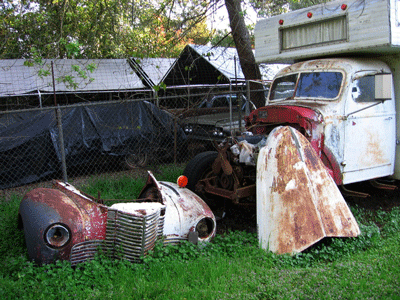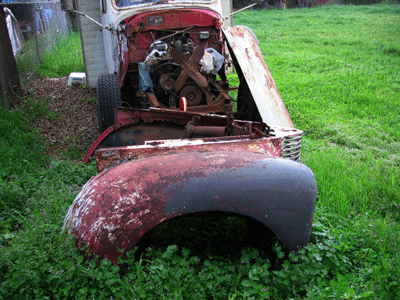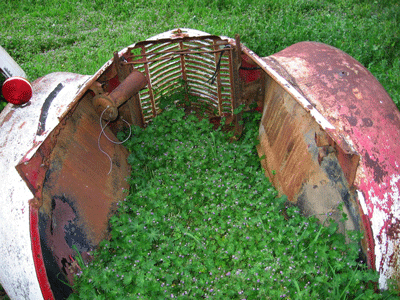 Next IH Trucks Page
KB-series International Trucks
1950s R-Series International Trucks Page
1963 Crew-cab International Pickup Truck Page
Magney Photography Home Page
David Magney Environmental Consulting Home