Pollard Point
In Honor of Henry Minter Pollard
23 June 2005
Updated: 15 June 2007

View My Stats

Ventura County is a rugged and diverse area along the California coast. &nbsp The mountains, ridges, and valleys in Ventura County trend mostly east-west, as a result of plate tectonics between the Pacific and North American Plates. &nbsp The "Big Bend" area of the San Andreas Fault, the dividing line between the Pacific and North American Plates, binds up the lateral movement of these two plates, resulting in significant folding and fracturing of the geology.

Many of the ridges and intervening valleys have been named; however, many have not. &nbsp Placenames are valuable in explaining to others where something of interest occurs, such as a vista point, a population of an interesting plant, a place of historical significance, etc. &nbsp Many places have uninteresting, or overly used names, such as Bear Creek, Dry Creek, Pine Mountain, etc., while other areas are more uniquely named, such as Nordhoff Ridge, Dry Lakes Ridge, Ojai Valley.

In recognition of the botanical research and longtime Ventura County resident and teacher, I decided it was time to recognize the life of Henry Minter Pollard (1886-1973). &nbsp The photograph below is from a yearbook of Laguna Blanca School, supplied to me by one of his former students, Dr. Nicholas R. Miller, whose father was a fellow teacher at Laguna Blanca School in the early 1950s.



Henry, whom I never had the pleasure to meet, collected plants extensively in the Ventura River watershed, starting in the 1940s when he lived in Ojai. &nbsp He had planned on publishing a flora of the Ventura River watershed in collaboration with botanist John Thomas Howell, but died, at the age of 88, before completing his manuscript and submitting it for publication.

Henry M. Pollard was born in Mendota, Illinois. &nbsp He taught at several private schools in various places in California, and botanized everywhere he lived. &nbsp While he lived in Ojai, he taught at the California Preparatory School between 1942, when the school opened in Ojai within the former The Foothills Hotel, until he moved to Santa Barbara to teach at the Laguna Blanca School on Hope Ranch in the early 1950s. &nbsp His papers can be found at the Santa Barbara Botanic Garden (SBBG) library (Henry Pollard Collection) and many of his plant specimens are deposited at SBBG, Rancho Santa Ana Botanic Garden (RSA), and California Academy of Sciences (CAS).

It seemed appropriate to honor Henry by naming a prominant unnamed ridge overlooking the headwaters of the Ventura River after him. &nbsp Therefore, I made a formal nomination in 2004 to the U.S. Board on Geographic Names (USBGN) to name the ridge between Dry Lakes Ridge and Nordhoff Ridge just west of the Rose Valley turnoff along State Route 33 as "Pollard Point".

The Channel Islands Chapter of the California Native Plant Society, Ventura County Board of Supervisors, and the Channel Islands Regional GIS Collaborative, Inc., all supported my nomination as worthy, and wrote letters to the USBGN stating such.

My application to the United States Board on Geographic Names was accepted and finally approved after a long vetting process on 10 November 2005. &nbsp A copy of the official notification letter is posted below. &nbsp How nice to have Henry M. Pollard honored in this way.

Pollard Point, located in the center of Ventura County within the Ojai Ranger District of the Los Padres National Forest, occupies approximately 1,000 acres (405 hectares). &nbsp It is an east-west trending anticlinal ridge located south of Dry Lakes Ridge (to the north) and Nordhoff Ridge to the south. &nbsp State Route 33 (SR33) climbs Pollard Point and provides an excellent view of the upper Ventura River watershed from the west end of Pollard Point.

Pollard Point is dominated by chaparral vegetation, with dominant plant species covering the steep slopes, including: Chamise (Adenostoma fasciculatum), Flatleaf Snowball Ceanothus (Ceanothus crassifolius var. planus), and Birchleaf Mountain Mahogany (Cercocarpus betuloides var. betuloides).

The geology of Pollard Point consists of marine sedimentary formations of Miocene and Eocene epochs (sandstones and siltstones), which have been uplifted and folded into an anticline (east-west axis), with faults occurring on the north south edges of the ridge.

Below are a series of maps and photographs illustrating the extent, topography, and character of Pollard Point.


General raised relief map of Ventura County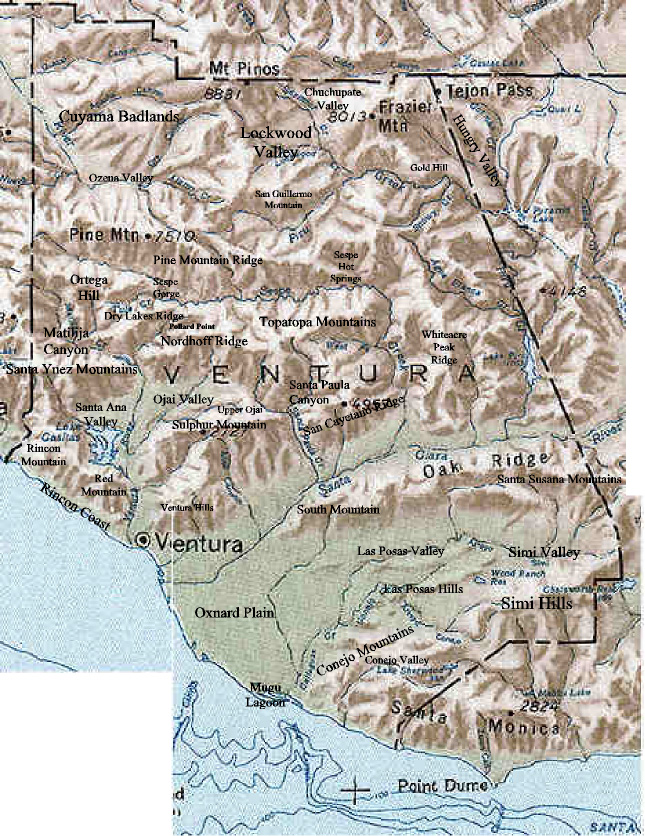 Topographic map of Pollard Point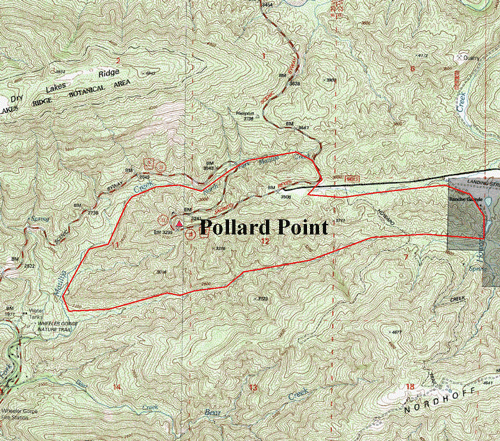 Topographic-3D map of Pollard Point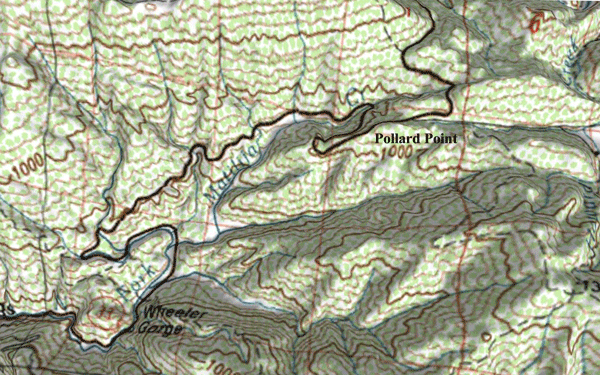 Oblique 3D topo map view of Pollard Point as seen from the west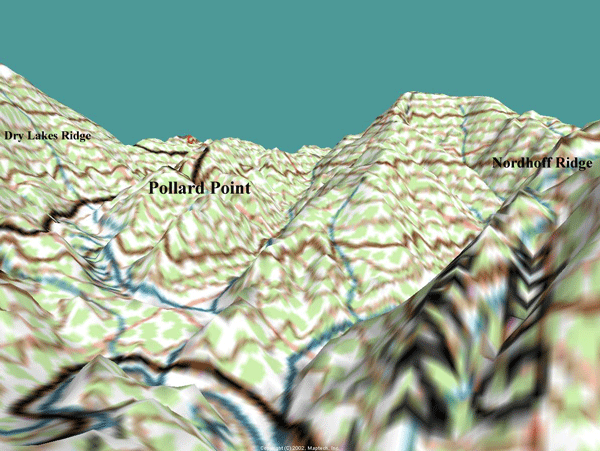 Photographs of Pollard Point from the west on State Route 33, looking east.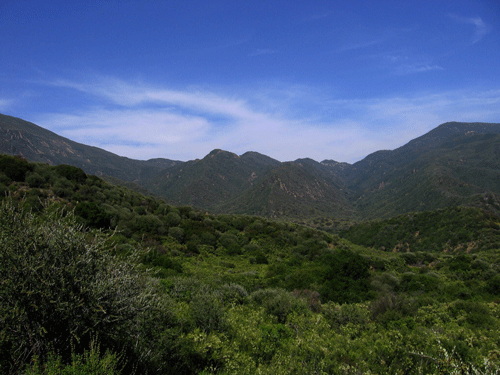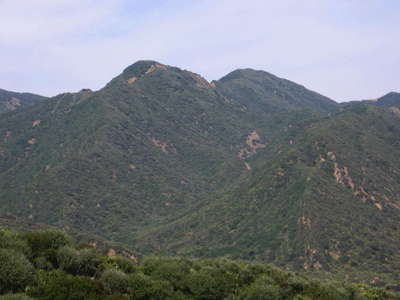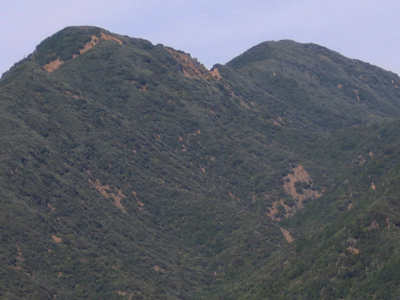 Photograph of Pollard Point from the west base along the Wheeler Gorge Nature Trail with Chamise (Adenostoma fasciculatum) in the foreground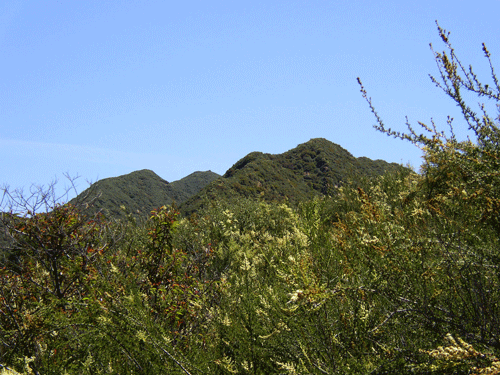 Photograph of Pollard Point from the east along road to Rose Valley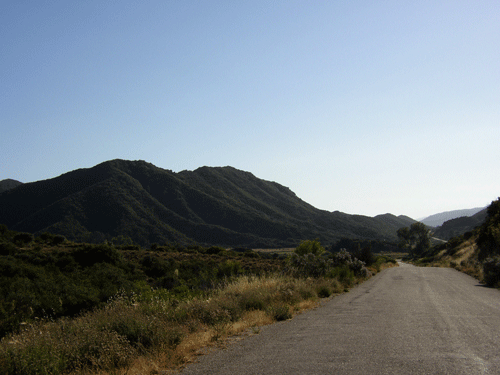 Approval notification letter from the U.S. Board on Geographic Names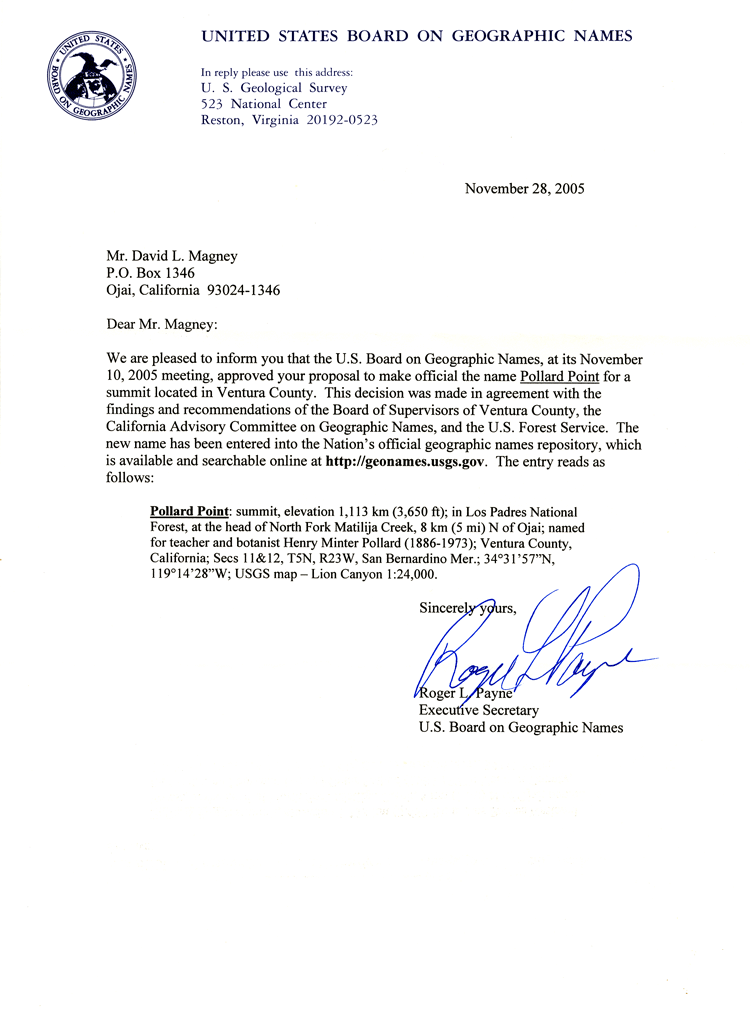 Magney Photography Home Page
Photography Site Map
DMEC Home